Steffen Hacker
Head of the Jury
Steffen Hacker is a German commercial director as part of the directing duo "Alex & Steffen" with a strong background in visual effects. His indie feature directing debut "Ingenium" (2018) received 15 awards internationally. His international co-directing debut "Bot Wars" got greenlit in early 2022 and is being casted at the moment. As part of DEA´s jury, Steffen has an eye for strong technical aspects of films in general and loves to be surprised by all kind of innovative directing ideas, may the be subtle or crazy.
Afrim Spahiu
Director/Producer
Spahiu was born in Dibra, in the former Yugoslav Republic of Macedonia and studied in the Academy of Theatre, Film and Television at the University of Zagreb. He worked as cameraman in RTV Prishtina (1975 -1976), as director of photography in Kosova-Film (1976-1990), as lecturer of Photography in the Design Department of the Faculty of Arts (1981-1983), as designer and manager of many artistic and commercial projects (1983-1990) and as lecturer of Photojournalism (2000-2002), of Film and Photography (2002-2005), of Analog – Digital Photography and of Movie Photography (from 2007) at various universities. His filmography as director of photography includes about 20 titles of the most famous films of Albanian cinematography. He also was a member or head of many professional juries in the field of film and visual arts.
Andrea Stucovitz
Producer
He is an independent producer and consulter. He started to work in the audiovisual industry immediately after his studies. 1992 he moved to Toronto (Canada), where he was employed at SC Entertainment (today Cinemavault). Upon his return to Italy (1996), he worked for Metro Media, which was representing the major film and tv catalogues from CBS Broadcasting Corporation and was in charge of the Italian Dubbing for most of the unsold library of many companies. Later he worked as Production Manager and Post Production Supervisor until 2006, when he established Partner Media Investment, of whom he is currently owner and managing director.
Altin Basha
Director
Altin Basha (director) is a lecturer in Acting Art at the University of Arts, Tirana. He is one of the founders of the independent Albanian theater scene. He has a rich career in theater and television with over 40 theatrical productions, two TV series, etc. Founder of the first independent theater company OAZ. He directed for 17 years the most famous television cabaret PORTOKALLI (650 episodes) and then KOSHERJA (90 episodes) which are a reference point for the strong political satire in Albania. He is currently director of the Kujtim Spahivogli Experimental Theater.
Sasho Pavlovski
Director / Producer
Associate Professor at ESRA Film University Skopje and Company Owner of Manufaktura Produkcija (Films&docs&adds Production). He was born in Bitola. In Slovenia he had his first contacts with the art of cinematography. The war in the former Yugoslavia forced him to go to Bitola and then to Bulgaria, where he studied film and television directing at the Krsto Sarafov Academy (BA & MA). In 1998 he made his first TV movie "Emigrants". He later went on to produce television commercials. He has realised more than 150 of them and several feature films as a director and producer.
short & student film jury.
Esther Maaß
Head of the Jury
Esther Maaß is a classical theatre-trained German actress who turned to feature films after a few years performing on stage. Apart from occasionally appearing on German TV series she appears as main protagonist mostly in "Genre movies". For her leading role in "Ingenium" (2018) she got awarded as "Best Actress" four times at international film festivals and received numerous nominations. As part of DEA´s jury, Esther has a fine sense of "reading between the lines", of judging films on an emotional narrative and actor´s performance level.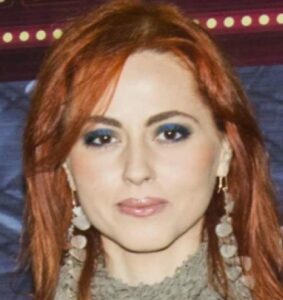 Adele Budina
Producer
Adele Budina is an Italian-Albanian producer, which promotes Albanian culture in Italy through twinning and prestigious events. She started working in the field of cinema at the age of 16 playing a role in "Letters to the Wind" (2001) and in "Palm Sunday" (2003). In 2010 she was the coordinator of the production of the feature film "Balkan Bazaar", an Italian-Albanian co-production. 2011-2014 worked in the diplomatic sector of the Albanian Embassy in Rome. In 2015 he created the production company A. B. Film in Tirana, which has produced three feature films (2017-2019) and eight television documentaries. In 2017-2019 she has been a member of juries at several Italian film festivals.
Redi Mazi
Director
Redi Mazi was graduated in Film and TV Directing in Rome (BA 2005) and from the University of Arts in Tirana (MA 2013). He has been working for 11 years as a director in the Documentary Film Production Sector at Albanian Radio and Television. He realised as a director and screenwriter 12 documentaries, 2 short films, several music videos, 4 of which have won awards, TV shows and programs, etc. He is currently working on two other documentaries.
Ilir Kabashi
Head of Jury
Ilir Kabashi graduated in film Directing at the Faculty of Arts in Pristina. In 2009 he finished his Master's degree in Film Directing in Pristina. He has written and directed about 20 short movies and documentary films. Some of the awards that he won are "Best National " in DokuFest, "Jury" and "Public Prize" in "One World", in Pristina, and others. His films have been shown in many festivals and televisions in Kosova and abroad. In most of his documentary films, the main subject is human rights and the fate of a man in society. During 2011/2014 he had been a member of the Board in the Kosovo Cinematographic Centre-KCC. He currently works in Radio Television of Kosova-RTK.
Vasjan Lami
Actor/Director
Actor, director. He was born on May 21, 1957 in Tirana. He graduated in 1978 at the Academy of Arts, for Drama / Actor. In August 1978 he started working as an actor at the National Theater where he continues today. He has performed about 60 roles in theater and around 40 roles in cinema. In 1994 he specialized for Theater Directing in Lille, France, under Director Daniel Mesgich.
Erion Kristo
Journalist
Born in Vlora in 1972. Graduated (MA & PhD) in Philosophy (Aesthetics), in Rome, Italy. Graduated (master's degree) in Literary Language (Literary Criticism), from University of Tirana. Master in Business Administration, Bordeaux, France. Fulbright Scholar at UCLA (Los Angeles, USA). Lecturer for 15 years in Barleti University. Journalist for 15 years of the "Bardh a Zi" Show on ABC News. Civil rights activist. Book author, translator and editor. Publicist.
Elsa Demo
Journalist
Elsa Demo is engaged with reports and analysis on arts and culture in Albanian daily media for two decades. She lectures journalism and Story of Art at University of Tirana and Elbasan. Co-editor with Ardian Klosi of two documentary and literary anthologies, the first about life under dictatorship in Albania: "Shqipëria kujton. 1944-1991" ("Albania remembers. 1944-1991"), and the second about post-communist era "Shqipëria tregon 1991-2010" ("Albania confesses 1991-2010"). She is a PhD for literature studies (Academy of Albanological Studies). She is author of the program "Artes" on RTSH (Albanian Public Broadcaster), since 2018. Elsa lives in Tirana.
Leonita Nika
Journalist
Leontina Nika was born in Shkodra. She studied Language and Literature at the University "Luigj Gurakuqi", Shkodra (2002) and specialized in television journalism at "Network Italia" 2004. For 20 years she has been working as a cultural journalist at Top Channel television, in the newspapers "Ekspres", "Gazeta e" Tirana "and" Network Albania ", for the cultural magazine" Fokus "and as editor-in-chief for the cultural magazine" Spektër ". For 11 years she has been working at "Abc" television as a journalist for cultural chronicles, reports and specials.
Kamuran Goranci
Painter
Born in Prizren. He studied Painting at the Academy of Arts in Belgrade. After them he worked as a professor of Figurative Art, director of "Hajdar Dushi" Gymnasium and founded the Art Gallery "Vision of RI 2000 +" in Gjakova. He also headed the Department of Culture and the SMP Arts Division at MCYS, Pristina, at the head of which he is currently. Since 2009 he is a professor for Drawing and Painting at the Faculty of Fine Arts. He has conducted several cultural and artistic projects in Kosovo, has participated in a number of exhibitions, art colonies and film, drama and music festivals in Kosovo and abroad. He has also been the producer of "ANATEMA" (Agim Sopi), "Kosovo Fathers" (Sunaj Raça) and "Three windows and a hanging" (Isa Qosja).