Kastriot Abdyli
Head of the Jury
Kastriot Abdyli was born on 10.02.1972 in Kumanovo, Macedonia. He holds a BFA in Acting from the State University of Tetovo, in Macedonia, and an MFA in Directing from the Faculty of Arts at the University of Kosova in Pristina. He also has a BA in Economy from the University of Kosova and a Master's degree in International Marketing from the Globus Colleague in Prishtina, Kosova. He has directed and produced a lot of movies and documentaries. His most famous movie "The Return" has participated in a lot of Film Festivals around the world.
Valina Muçolli
Member of the Jury
Valina Muçolli was born in Pristina, in 1982. She graduated from the Academy of Arts, in Acting (2004). She also graduated in Albanian Literature from the Faculty Philology of Prishtina as well as Dramaturgy from the Faculty of Arts in Pristina. She has performed hundreds of roles in the theater with both experienced and young directors' role in various films and series. She has also worked as a screenwriter for short films and film series. As a director, she has staged/directed several plays in Pristina and Tirana. In 2015, Valina was declared "Best Lead Actress" by the "Kult" Academy for her role in "Albanian Comedy Days".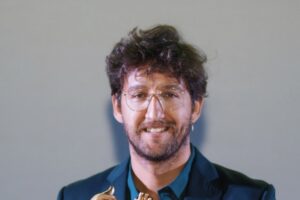 Giuseppe Marco Albano
Member of the Jury
Giuseppe Marco Albano is an Italian director, screenwriter, and film
producer. He attended the International Academy of Arts and Sciences in L'Aquila for a year and then enrolled in Parma at the Faculty of Letters and Philosophy with a specialization in Artistic, theatrical, cinematographic, and new media heritage. Among his works, the short film Il Cappellino, selected in Italian and international festivals as a finalist at the Giffoni Film Festival and nominated for the 2009 Golden Globes as best Italian
short film; Xie Zi is also a finalist at the Giffoni Film Festival 2010 in the 10+Elements section
as the only Italian short film and selected among the finalists of the 2011 Silver Ribbon; Stand
by me, a candidate in the five David di Donatello Awards 2011 and winner of the Silver Ribbon for best Italian short film.
In 2012 the film Una Domenica Notte marks his debut as an independent feature film. In 2013 he was awarded the Massimo Troisi Award for the best comedy short film. In the same year, he presented the short film Anna at the 70th Venice Film Festival. In December 2022, at the 40th TFF Torino Film Festival, he presented the documentary entitled "We got away with it"